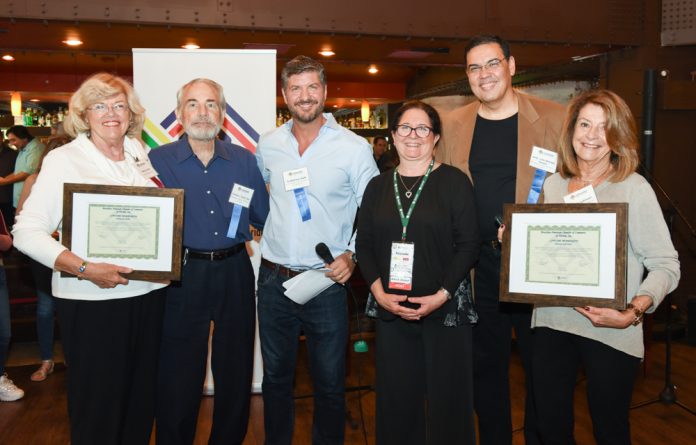 Da esquerda para a direita: Pat Roth, Tom Skola, Guilherme Gatti, Mary Arnaud, embaixador João Mendes e Gloria Johnson.
A Brazilian-American Chamber of Commerce of Florida (BACCF) realizou no sábado (8) a sua tradicional Feijoada Anual, abrindo o calendário de eventos da entidade em 2020. Como sempre, a Câmara aproveita a ocasião para apresentar a nova diretoria eleita no final do ano que passou, e tomou posse oficialmente como novo presidente o executivo Guilherme Gatti, da Fedex. Cerca de 250 pessoas, entre membros, diretoria e convidados, saborearam a feijoada da churrascaria Texas of Brazil, em Miami Beach, num ambiente de alto astral e confraternização. O cônsul-geral do Brasil em Miami, João Mendes, presidente de honra da BACCF, deu as boas-vindas aos novos membros.
O advogado Thomas J. Skola, fundador da BACCF, maior câmara de comércio binacional do estado, foi homenageado com uma placa pela atual diretoria, em agradecimento aos quase quarenta anos dedicados à Câmara. Pat Roth e Gloria Johnson, ex-diretoras executivas da BACCF, também foram homenageadas. Leia entrevista com Skola na revista BizBrazil Magazine deste mês. Fotos de Ronira Fruhstuck.